Robert Price takes an active role in the local community and our business is always expanding. Read about our up-to-date news and endeavours here:
---
Date: November 2019
-
We are delighted to be supporting several sports teams local to our Robert Price branches for 2019/20. As one of the largest employers and suppliers in South Wales, we believe in giving back to our local community, which is why we are proud to assist a number of local charities and community groups as well as local sports teams.
---
---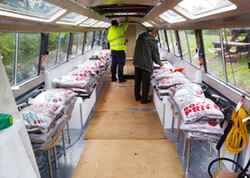 Date: October 2019
-
Here at Robert Price, we've been busy supporting the restoration of a canal boat from the 1980s that was saved from the scrapyard in 2011. The Lord Raglan boat was salvaged to provide families, tourists and disabled groups with an exciting day out.
---
Date: October 2019
-
Physical, mental and spiritual wellbeing are all fundamental to a happy life. Keeping active is one of the best ways to improve our wellbeing. Robert Price staff are boosting theirs by training for the Cardiff Half Marathon. With the race taking part in early October, the staff are already gearing up for the race day buzz!