Robert Price Donates 201 Water Bottles to Monmouthshire School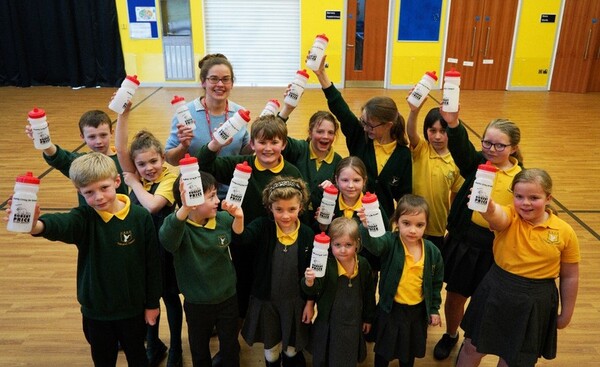 Robert Price Builders' Merchants presented pupils at Raglan Church in Wales Primary School with free water bottles.
All 201 pupils were given a bottle featuring the company's Bobby the Beaver logo, at their end-of-week assembly last Friday.
It is part of the Robert Price Healthy Living for School scheme, which aims to encourage pupils to lay down firm foundations for a healthier lifestyle.
Teachers will encourage children to fill up their bottles and drink more water during the school day.
Robert Price marketing manager, Molly Pike said:
"It was amazing to be invited to Raglan Primary School for their end-of-week assembly.
"The children ran the assembly themselves and me and my team were very impressed with how confident and eloquently they spoke. Also, their knowledge of Robert Price and what we do.
"As a local company, we are delighted to be able to play a part in supporting Raglan Primary School in their efforts to encourage their pupils to lead healthier lifestyles.
"Encouraging the children to drink more water gives pupils a healthy alternative to sugary drinks and hopefully gets them into good habits for later life."
Eve Rowlands, headteacher at Raglan Primary School, said:
"We are really grateful to Robert Price for supporting us with our healthy school initiative.
"It's so nice to be able to work with local businesses within our community to promote something which will benefit the health of our pupils.
"The children were very excited to receive their new water bottles. We will be reminding them to continually use their bottles and to drink more water."
If you would like to get involved with our Healthy Living for Schools Scheme, please get in touch by emailing