20 tips for managing your self-build or renovation project
Beginning a new project is a daunting task for some, whilst others cannot wait to start! No matter the potential stress that a big building project brings, most self-builders agree the end result of a dream home is worth it.
To help guide you in the right direction, we have put together a selection of top tips to make your self-build project as hassle-free as possible: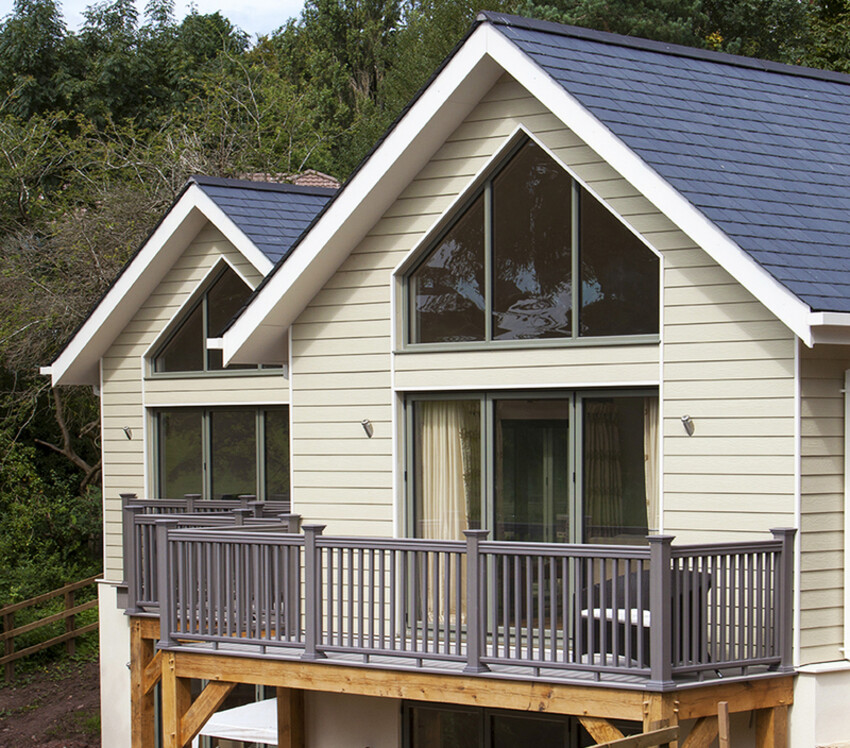 ---
---
1. Plan ahead
The key to a successful self-build is planning. Consider taking as much time to plan your project as you do to build. Throughout the project you'll be faced with design, structural and material decisions. Try factoring these choices into your plans before you begin the project, to avoid being overwhelmed mid-build. It is also important to check whether your self-build requires planning permission and factoring this into both your budget and build timeline. Planning departments can take up to 12 weeks to make a decision, so it could be an obstacle if you're ready to build. If you are purchasing a plot with planning, ensure to check the expiry date of the planning permission to avoid any nasty surprises along the way.
---
2. Don't leave landscaping until last
It might be tempting to focus on the building and creating a habitable space, however, a small amount of landscaping preplanning could save you time and money in the long run. Before limiting your outdoor access by building walls and other obstacles, consider what bulky materials, topsoil or substrate you'll need for your garden. Heavy machinery could make landscaping much more cost-effective but getting it to the right areas of your plot might only be feasible at the very beginning, so it is important to plan ahead and do your research.
---
3. Interior inspiration
If you know how you'd love to layout your kitchen or have specific features in mind for your bathrooms, don't let the building design scupper your plans. Plan your kitchen and bathroom spaces early as the position of doors and windows can have a big effect on the potential layout. If you take into consideration your ideal interior layout before you finalise your structural build, you avoid having to compromise at a later date. Don't forget about the additional challenges of plumbing routes, extraction and lighting in these rooms too.
---
4. Get a self-build account & account manager
Open a trade account with a merchant and establish an account manager contact, especially if you are organising the materials for the job yourself. Booking goods to an account offers lots of benefits, beyond the obvious credit period for payment. All your invoices will be recoverable should you need them for your VAT claim at the end of the build, and by working with a dedicated account manager, you'll have a product expert on hand for any advice required. An account manager who understands your project challenges can also help ensure your material supply runs smoothly.
---
5. Ask for a quantity estimate & book an account manager site visit
To formulate and then manage your budget, you'll need to get an estimation or 'take off' from your architects plans. A good 'take off' will give you a comprehensive list of the materials needed and identify the labour costs associated with the build. It should also break down the costs into schedule sections to assist with your spend timeline. Unsure where to start? Speak to your merchant account manager, who'll be able to talk you through the process. It's also a good idea to book a site visit with your merchant account manager as early as possible. Talking through any potential site issues and identifying the types of materials you are looking for will give them the best chance of offering as much help as they can.
---
6. Local tradesmen
Hire local tradesmen, ideally those with a strong reputation with positive recommendations. Local traders will not only have better local contacts, but they are far more likely to have a reputation they would want to uphold. It is in their interest to do a great job for you, showcasing their level of workmanship and reliability as an advert for future jobs.
---
7. Know your neighbours
While you're building your dream home, your new neighbours might be frustrated with the noise, parking and general disruption caused by your project. Whether you're building from a bare plot or extending a property, communicate with your neighbours as soon as possible, letting them know the estimated timeframe and who to contact if there are any issues. A good level of communication will usually result in neighbours who are much more understanding of the build and could potentially be a real asset when it comes to site access, security and material deliveries.
---
8. Manage your subcontractors
If you're managing your self-build project and hiring various subcontractors, remember they will still need to work in conjunction with one another. Consider compiling a list of your subbies with their contact details, allowing them to liaise with each other when needed and minimising any delays along the way. Breaking the build into phases will keep progress manageable, whilst sharing this plan with your different subcontractors will ensure all subbies are on the same page from the start. Plus, good subcontractors will like to plan ahead so they can factor in time off site to work on other jobs and be fully aware of your project deadlines.
---
9. Material storage on site
Some sites are blessed with ample dry and secure site storage, whereas others unfortunately are not. If your site is lacking in space, you will need to be more organised with your supply of materials. Holding goods onsite is a security risk, could lead to unnecessary damages, and can hamper the productivity of your trade teams. However, avoid leaving your ordering to the last minute as this could delay progress and inevitably set back completion. Find the right balance and discuss potential product lead time and product storage requirements with your material supplier. Alternatively, if your property plans include outbuildings or a garage, consider prioritising them in the build so you have somewhere to store materials for the remainder of the project.
---
10. Environmental considerations
Don't overlook environmental design features; find out about the latest eco products on the market to ensure you're making fully considered choices. Renewables don't necessarily suit every build or budget, but new products are coming on to the market all the time, so it's important to check what's available and the potential long-term benefits. Some builders might be unfamiliar with the installation of newer technologies so may not rush to tell you about the eco-friendly options. Do your homework and don't be afraid to talk through ideas with your builder.
---
11. Work with your material supplier
To ensure your team have what they need, when they need it, work with your material supplier throughout your project and order in advance. This will ensure your team can continue to work to schedule and will avoid any 'tool-down-time'. It will also contribute to a stress-free and productive site which is much more appealing to work on. You'll likely discover your builders or subcontractors are more motivated to choose your site over other jobs, as a constant and reliable supply of materials maintains productivity.
---
12. Remember the little things
If you are project managing your self-build, there will be minor jobs that will fall between typical subcontractor specialties. Overlooking these in-between tasks could affect the whole schedule, delay project completion and rack up unexpected costs (particularly if you have hired scaffolding or machinery). Talk to your subcontractors, agree exactly what comes under their remit and discuss the elements that will require sorting before and after their section of work is done.
---
13. Make your site a nice place to work
Just like any other working environment, if your site is a pleasant place to be then your trade team will want to be there. Provide a suitable place for breaks and a plentiful supply of tea, coffee and biscuits! When you are project managing a self-build, it is also important to provide clear direction, timely decision-making and appreciation of a job well done. By treating your trade team well, you might find they are willing to go the extra mile when the situation calls for it!
---
14. Protect your finances
A lot of money goes into a self-build or renovation project, so it is important to cover yourself in case something goes wrong. Self-builds require alternative insurance to domestic buildings or contents insurance, so make sure you purchase a specialist self-build insurance that includes full contractor cover. A structural warranty that covers the initial 10 years of your new build will also likely be required in order to take out a mortgage. Even if you are a cash buyer, consider that this structural warranty will be necessary if you go on to sell the house to someone who needs a mortgage themselves.
---
15. Visit your site
If you've chosen to use a project manager, try to avoid distancing yourself from the build. Make the time to go and visit the site as often as you can, maintaining a site presence means your trade team know they can call on you for important decisions. Plus, you'll be able to keep a realistic grasp on progress and inspire your team to stay committed.
---
16. Think 'Final Fix'
Some simple steps in the early stages of your build will make the final stages quicker and easier. Consider fixing ply above your windows before the plasterboard – to make fitting curtain rails a breeze. Or add stop taps and flexible adaptors onto water inlets to make fitting or changing taps or water faucets simple. Small details like these can be incorporated with minimal additional costs provided you think about them in time.
---
17. Managing VAT
After your project has reached completion, you have up to 3 months to reclaim your VAT. Within this time period, you need to submit all the relevant information. Throughout your building project, ensure to keep and organise your purchase receipts as this will make the VAT process much quicker and easier, you'll definitely be grateful for the ongoing organisation. There are various eligibility requirements to submitting your claim, depending on the project and its uses. Visit gov.uk to find more information about submitting your VAT claim.
---
18. Be snap happy!
Take plenty of photos throughout the project. Before and after pictures will help you appreciate the progress you are making. Photographic evidence of void spaces, cable routing and plumbing layouts could also be really useful in future. What's more, if we are your material supplier, we'd love to see your progress, so keep us posted!
---
19. Prepare for the future
At some point in the future, you might decide to alter your property, to add value or to create some additional space. During the initial build, consider areas where a slight amendment to the specification or design could provide better scope for extension or alteration further down the line. For example, your choice of insulation in the garage could make converting this space a piece of cake or choosing floating over fixed interior fittings will make them much more future proof for changes in trends or styles.
---
20. Expect challenges
Remember that every project is different, each presenting its own unique challenges. Expect to deal with one problem, only to find another obstacle crops up in its place. Rest assured this is normal! A good level of communication with your contractors will help everything run as smoothly as possible. And finally – even if the project seems a little overwhelming at times, enjoy the ride, it'll be worth it in the end!
---
---
---